Wine Growers and Distillers for 150 years...such is the Family BOUTINET motto.

The vineyard covers 68 acres set in the Cognac Fins Bois are, which is reknown for producing high quality Cognac more effectively than other crus.

From generation to generation, the vines have been established on the best soil of the Estate, deep and soft. Ugni Blanc and Columbard give their best when harvesting time comes and the vine is made in the estate winery with all the craft, attention and tradition by Bernard BOUTINET and his son Pierre.

Part of the more sweetened Columbard grape juice mixed with Cognac will produce Pineau des Charentes blanc, when juices of Merlot and Cabernet are added to Cognac it will result in the Pineau des Charentes rosé.
New Product:
Though the vineyard has been on this estate for nearly two centuries, though the art of distillation has been passed down for more than four generations, Bernard BOUTINET has added a new dimension by bottling and selling his own Cognac and Pineau des Charentes direclty from his Estate.
The label emblem "La Calèche" has become the mark of originality and quality of Boutinet's Cognac and Pineau des Charentes. This is Charente image, a little mysterious and secret behind the high walls surrounding the Estate, proud of a rich historical past. As Boutinet's labels wants to be sober, discret and elegant.
When BOUTINET VSOP Cognac shows itself direct and gently perfumed, Napoléon, XO, and Extra reveal their richness and complexity only after a tender moment of complicity in your hand. Then you reach a marvellous world of warm touches of honey and gingerbread. You appreciate perfect harmony between alcohol and sweetened flavours.
Beside his traditionnal oak barrel matured Cognac Bernard BOUTINET offers a suprising "Coeur de Fins Bois" being matured in very old casks, it has very little tanin and leaves pure all the perfumes and fragrances from the grapes and vines. Very light eau de vie and being nearly without tannins it allows also to be appreciated as a long drink on ice or with tonic.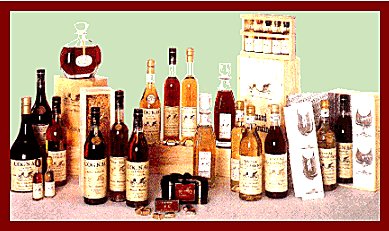 Wine growers and originality.
Cognac Bernard Boutinet Carafe 2000
Amateur Cognac Tastings: Cognac Boutinet 1998 Fins Bois