Cognac is a birth place of the French King Francois I (1494-1547). His reforms and focus on the trade, using the river Charente laid the foundation for the future success of the cognac business. Until 1926 the Charente river, that rises around Rochechouart and flows for some 355 km through Angouleme, Jarnac and Cognac into the Bay of Biscay near Rochefort, was the main transportation route of cognac. Today, river Charente is mainly used for pleasure boating.
The population of Cognac is about 22000. Cognac is a sister city with Königswinter (Germany), Perth (Great Britain), Valdepeñas (Spain) and Denison, (Texas, USA).
This town has a number of events and fairs each year. Among them are:
Festival du Film Policier Thriller Films Festival in April
Street Theatre and Arts in July
Blues Passions International Blues Festival in August
Water Jousting Competition in September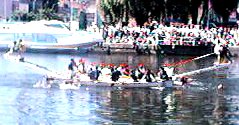 11th Floralies de Cognac International Fuchsia Fair and Exhibition, in September
Grape Harvest Festival in September
European Literature Fair in November
Every July in nearby Saint Brice there is a fabulous, theatrical Son et Lumiere (Sound and Lights) production of historic event.
The area of the Vieux Port (Port St. Jacques) dates back to XIIth century. Many houses are well preserved and occupied today. Main places to see are:
* Château Francois I where two towers guard the entry to the Old Town
* Eglise St. Leger Great church dated to XIV century
*Musée de Cognac Build in 1838. It has several sections; housing and costume, cognac, glass making, ceramics and others.
*Jardin Public Public garden with superb flower beds, black swans and the majestic City Hall.
But, what the town is really about is Cognac. Tasting, guided tours and an opportunity to shop are available at:
Camus 29 rue Marguerite de Navarre
Château Paulet route de Segonzac
Hennessy Vieux Port
Larsen 66 Boulevard de Paris
Martell Place Edouard Martell
Otard at the Château de Cognac 127 boulevard Denfert Rochereau
Rémy Martin Domaine de Merpins, route de Pons (5 km from Cognac, direction Pons)
Prince Hubert de Polignac Pavillon de Laubaret (4 km from Cognac, direction Angouleme)
Ville de Cognac Ville de Cognac (official site)
When walking through the city of Cognac you may want to stop by at La Cognatheque, Cave St. Leger and La Maison du Cognac which offer a wide range of Cognac and Pineau des Charentes products.